This week's news on consumer supports the case for expecting that the Federal Reserve's interest rate hikes are approaching the end game. The basic calculus is that are disinflation persists, the odds rise that the central bank will pause its policy of tightening monetary policy.
US consumer prices rose in June at the slowest pace since March 2021, providing more support for expecting that the Fed will put rate hikes on ice. Core inflation's descent is still relatively sticky, which leaves more room for caution compared with reviewing headline comparisons, which are lower primarily due to softer food and energy prices.
But looking at a broad set of inflation metrics indicates that disinflation is robust. (For a list of the inflation indexes in the chart below, see p. 3 in CapitalSpectator.com's The US Inflation Trend Chartbook, which is sent every month to subscribers of The US Business Cycle Risk Report.)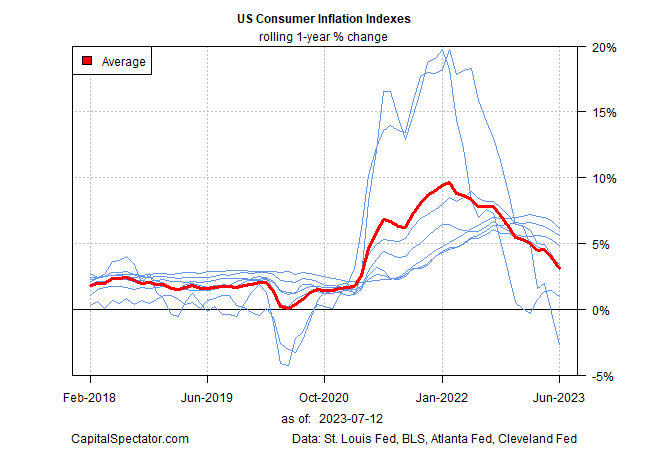 US Consumer Inflation Indexes
The bias (month-to-month-change in the 1-year trend) has deepened lately for the average 1-year change in the chart above. That's a clue for expecting that the recent run of disinflation will stay robust for the near term.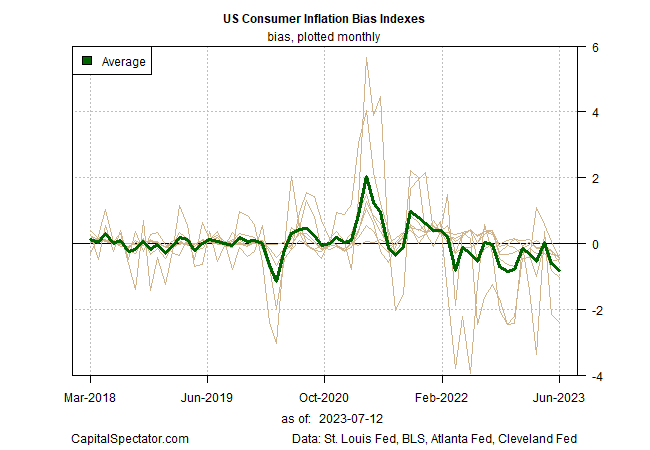 US Consumer Inflation Bias Indexes
Meanwhile, Fed monetary policy remains moderately tight, based on a simple model that compares the Fed funds target rate to unemployment and inflation. With inflation easing at a solid pace, the central bank may be convinced that it can put rate hikes on pause and allow the current moderately tight policy stance to put downward pressure on prices.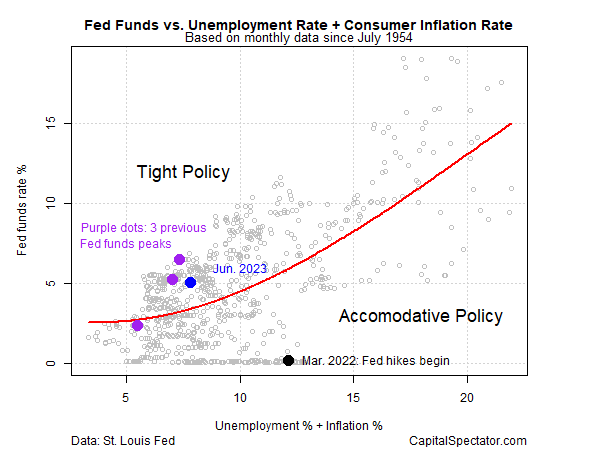 Fed Funds vs Unemployment Rate
The policy-sensitive Treasury yield, which is trading below the Fed funds target rate, continues to price in expectations that the Fed funds target rate is close to a peak if it hasn't peaked already.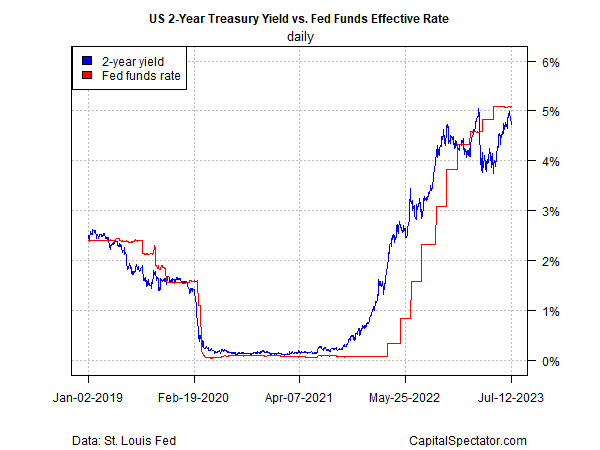 US 2-Yr Treasury Yield vs Fed Funds Effective Rate
Fed funds futures are pricing in high odds for another rate hike at the July 26 policy meeting, followed by moderately high odds for pausing at the two subsequent FOMC meetings.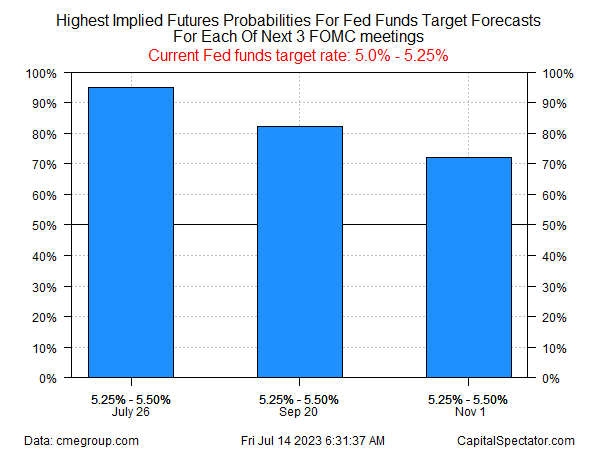 Probabilities For Fed Fed Funds Target Forecasts
Although the case is strengthening for expecting a pause in rate hikes, one Fed official yesterday cautioned that it's premature to declare victory over inflation and assume that rate hikes are over. San Francisco Fed President Mary Daly advises that while "there is no doubt that the good news on inflation is good news indeed, it's really too early to declare victory on inflation."
This much is clear: the latest inflation numbers raise the odds that the Fed's rate-hiking cycle is close to peaking. Upside surprises to incoming inflation numbers could derail the optimism, but for the moment, the crowd is reading the tea leaves and becoming more confident that the end game is in sight.
Commenting on the June inflation report, economists at Goldman Sachs wrote on Wednesday: "Today's report is consistent with our view that Fed tightening is in its final innings."