Share:

Private hiring in February rose by 145K, lower than anticipated.
ISM Non-Manufacturing PMI drops to 51.2, below expectations and the previous month's reading.
USD/CHF Price Analysis: Bullish continuation requires reclaiming 0.9100 resistance; otherwise, further losses lie below 0.9000.
USD/CHF hits a new YTD low at 0.9005 but rebounds as a risk-off impulse, seeing a flight to safety, as shown by US equities trading in the red. Growing concerns in the United States (USD) arose after the last tranche of US economic data increased the likelihood of a recession. At the time of writing, the USD/CHF is trading at 0.9070.
Wall Street fluctuates between gains and losses. US Treasury bond yields continued to drop as the bond market rallied, on investors seeking safe-haven assets. The USD/CHF fell to a multi-month low, though it recovered some ground after US data revealed elevated recession fears.
The ISM Non-Manufacturing PMI headed to 51.2, less than the expected 54.4, and fell short of the previous month's reading of 55.1. Business activity deterioration, and a decline in new orders growth, were the reasons for the dip. Earlier, the ADP Employment Change report showed that private hiring in February rose by 145K, below the anticipated 200K, trailing January's upwardly revised figure of 261K.
Given the backdrop that labor market indicators suggesting a downturn in unemployment claims could pave the way for a weak US Nonfarm Payrolls report. The consensus estimates that the US economy in March created 240K jobs, lower than February's 311K.
USD/CHF Technical Analysis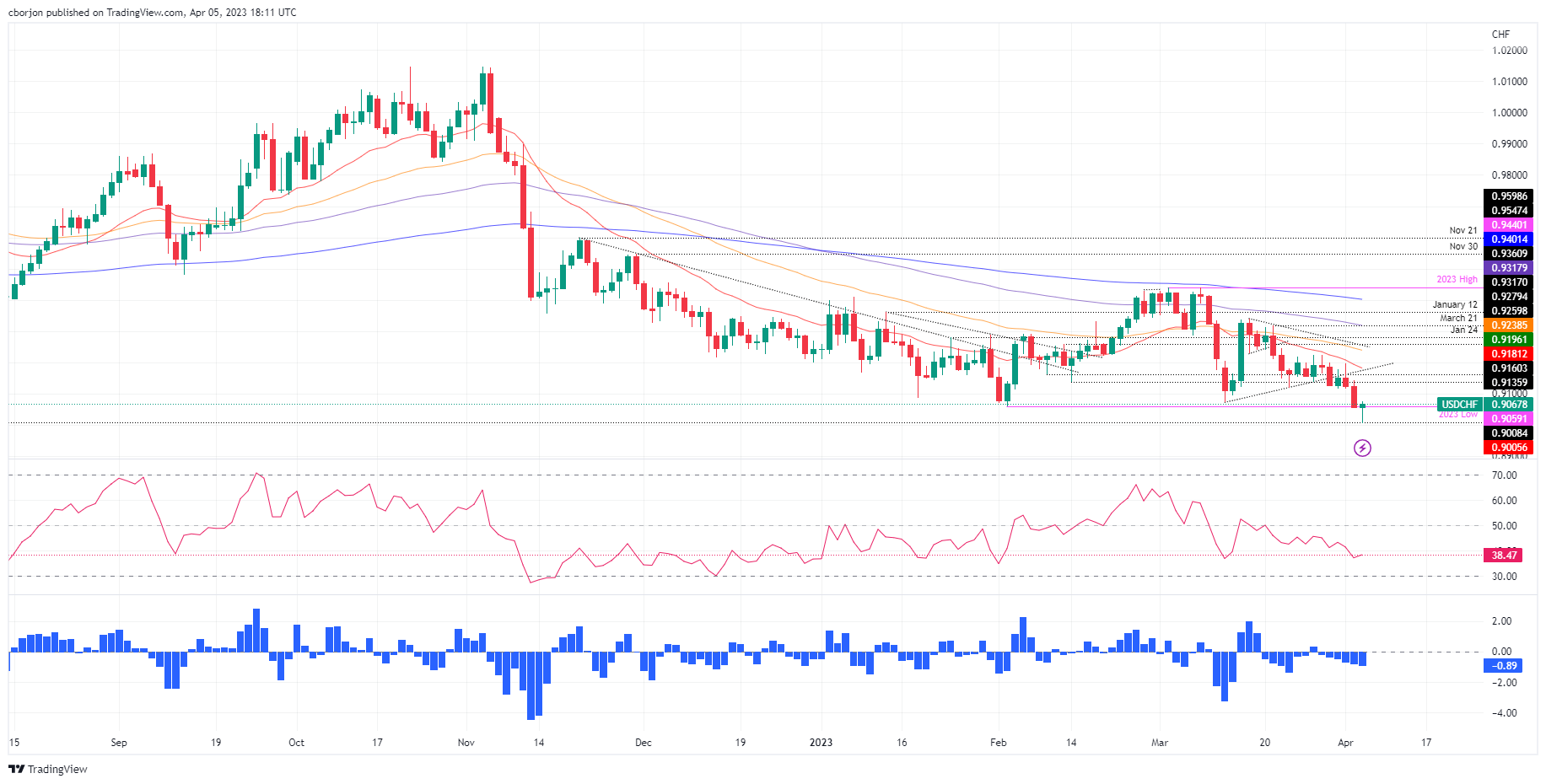 The daily chart shows that the USD/CHF remains downward biased. Wednesday's fall toward a multi-month low at around 0.9005 and a late recovery is forming a hammer, which, preceded by a downtrend, can exacerbate an upward correction. For a bullish continuation, the USD/CHF needs to reclaim 0.9100. Above that resistance, a previous support trendline turned resistance around 0.9170-0.9180, which would be the next supply zone, ahead of testing the 20-day EMA. Otherwise, the USD/CHF could extend its losses below 0.9000.
What to watch?